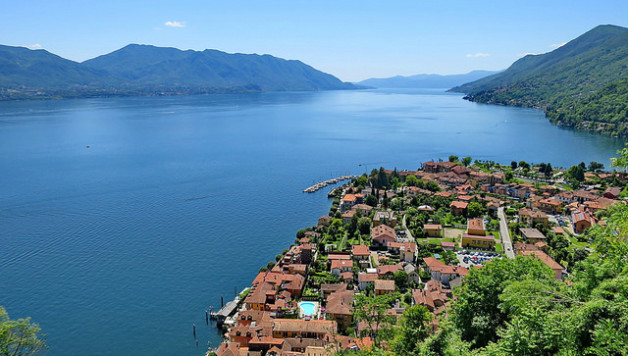 Sophisticated and beautiful Northern Italy's Lake District
One might be tempted to think that Italy is just about Rome, the fashion of Milan, and the delicious food on offer. Whilst they are reasons enough to visit Italy, there is much more to this beautiful country than just that. If you've never considered visiting the Northern Lake District then you're seriously missing out, because not only is this one of the best outdoor destinations in the world, but it's also one of the most beautiful.
Basically, the Italian Lake District stretches across the north of the country, spanning mountains and huge lakes, which go as far as into the famous Alps. The weather is never too hot and never too cold, unless you head to the ski resorts, and is famously mild throughout the year. It's this fact, along with the beauty of the area, which makes it one of the most visited in the country.
Lake Como and Lake Garda are famously visited by the rich and famous and have a seriously sophisticated edge, but that needn't put mere mortals off visiting, as there are many budget options for accommodation. Have you head of glamping? If not, why not?! This is one of the best ways to stay around these glittering areas, and is basically camping, but with a more luxurious edge, and easier on the pocket than staying in a top-class hotel.
The other regions are Lake Maggiore, Lake Lugano, Lake Iseo, Lake Orta, Lake Varese, Lake of Monate, and Lombardy. How to get around the region is a personal decision, but to enter the area in the first place you need to pass through either Milan, Bergamo, Brescia, or Verona. Many people choose to do a twin centre break, combining this natural holiday with a few days in the city of Milan. Once there, you can easily get around by car, campervan, or boat. Do be aware that not all towns are visited by car ferries, and a water taxi may be the way to go, however this can be the more expensive option.
So, what can you do in this beautiful part of the country?
The Italian Lake District is all about the great outdoors, and that means not only water-based fun, but out of water too. You can enjoy swimming, sailing, windsurfing, and water-skiing on most of the lakes, with beaches to enjoy during the warmer months. During the winter, head to Lake Maggiore and enjoy the huge ski centre, which stretches into the Alps, and is accessible for all ability levels. On top of this, enjoy horseback riding, cycling, mountain biking, and plentiful hiking trails, taking you through some of the most beautiful and inspiring scenery you will ever set your eyes on.
Most towns around the lakes have a large number of restaurants, cafes, bars, shops, and museums too, so you can enjoy vibrant night-life, whilst learning a little about the culture too – the best of both worlds!
Whilst visiting Italy, it would be a crime not to head to this most beautiful of regions – if you're looking for something truly authentic in terms of Italian culture, you can't get better than this, whilst also filling your belly full of that famous Italian cuisine.
Image of Lake Maggiore by Angelika Spanke under Creative Commons license.