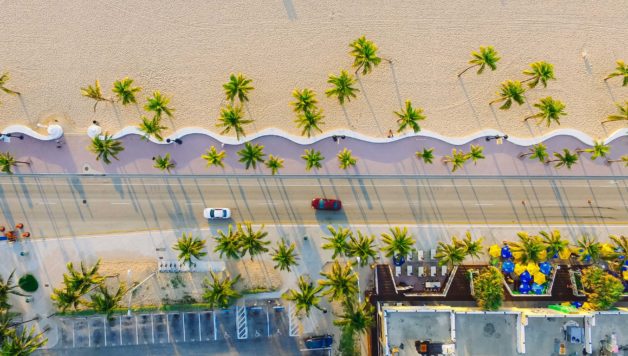 Miami, Florida – your year round destination!
Want to escape the dreary UK Winter for some guaranteed warmth and sunshine? Florida, USA is a great holiday destination all year round due to it's warmth air and water temperatures. There's a good reason why "snowbirds" migrate here from the northern states of the US and Canada each Winter. The average high temperature for Miami from May through October is 30-32 Celsius. Even in the depths of the Miami Winter from December through February the daily high averages between 24.7-25.6 Celsius. You can swim in the ocean any time of the year – it gets up to 30C in July-August! In January the average water temperature is 20C, the same as in the height of Summer in New Zealand where I'm from, and nearly 2 degrees Celsius higher than Brighton Beach's (UK) Summer high! For an amazing "summer" holiday experience you can find reasonably-priced Florida packages throughout the year, especially during the shoulder and low season months of June through November. N.B there are more heavy tropical showers and the chance of hurricanes during these months.
Let's highlight some of Miami's leading attractions. One or two of them are even free 🙂
Wynwood
This area started off as a simple street beautification initiative to promote street art. The quality of the wall murals was very high and the attraction soon drew large numbers of visitors, initially by word of mouth. The street art has spread throughout the whole neighborhood of Wynwood, Miami and contributions from some of the best street artists in the world. It is now a bonefide tourist attraction in it's own right – and it's free! Numerous galleries, micro-breweries, cafes and bars have opened up in the area so you can easitly spend a few hours here.
The Beach
Let's face it, the Florida Coast is one incredibly long beach. You don't have to stick to "Miami Beach" to experience a great combination of sun and surf. We have visited Hallendale and Hollywood Beaches which are in North Miami and they were fabulous.
We visited Miami only a month after Hurricane Irma swept by in early September 2017. The city has done a great job of cleaning up the streets so far but the beaches still have quite a lot of natural flotsam washed up, and the sand has been eaten away in sections up the coast. We had a rental car and found that most of the parking is metered and $3/hour.
If you are someone who likes to get some gentle exercise while taking in lovely views of the beach, then I would recommend walking the Miami Beach Boardwalk which approx. 4 miles long and runs between 5th Street and 46th Street.
Miami Zoo
Coming here is a unique experience in that it is the only tropical zoo in the continental USA. The exhibits are large and, where possible, have many and varied species within the same exclosure so you really can imagine yourself being in the jungle. Most people spend an average of 4 hours at the zoo. A great way to see the zoo without getting too exhausted is to rent a safari cycle. Small ones hold 3 adults and 2 small children while the larger ones while large ones can holdup to 6 adults and 2 small children. Miami is a hot and humid place in the Summer so I would recommend visiting in the cooler months.
For a more personalized wildlife experience, many people rave about tours of the smaller Zoological Wildlife Foundation. In fact visiting the ZWF is by appointment only – you can't just bowl on up to the gate and expect to get in.
Art Deco Architecture
Miami was devastated by a hurricane in 1926 and much of it was rebuilt in the new style of the day, Art Deco. Most of the best preserved art deco buildings are found within a 1 square mile area in South Beach with many on Ocean Drive and Collins Road.
Image by Lance Asper via Unsplash.